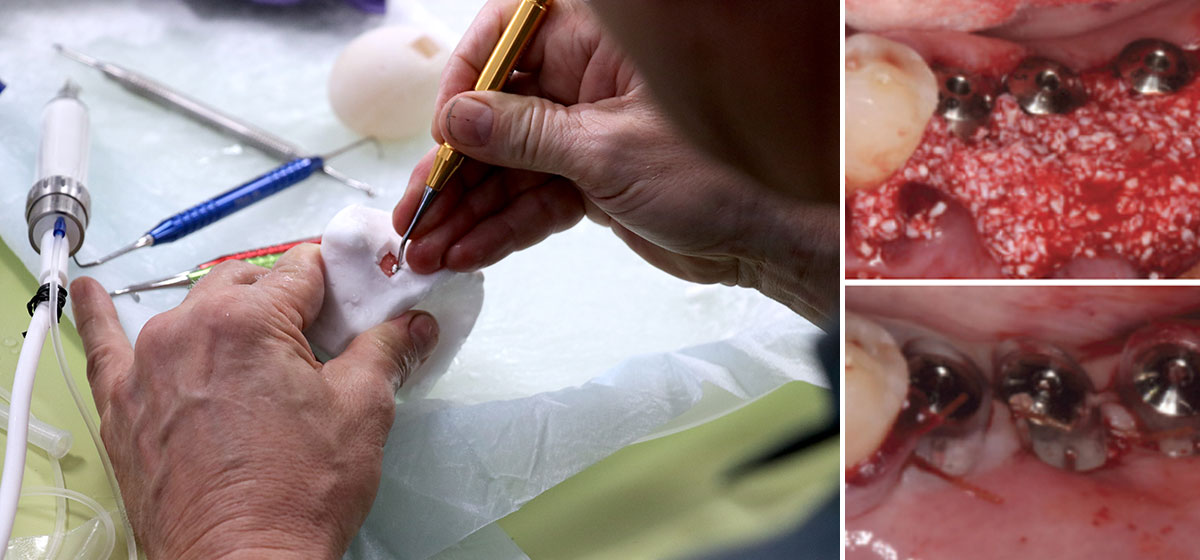 Sinus Augmentation
Sinus grafting, considered to be one of the most tricky surgeries in the discipline of implant dentistry, will be challenged in this two-day program of intense hands-on, practical training, and live-surgery observation led by a board certified periodontist, and a clinician who have collectively brought some of the most cutting-edge innovative sinus techniques in recent years. This intense lecture, video, and hands-on workshop will focus on all aspects of sinus augmentation from the "classic" lateral window approach to a number of crestal or, internal techniques. The numerous gadgets, devices and approaches will be discussed with clinical examples to discern the good, the bad, and the not-so-pretty side of this arena. A newly advocated technique, of hybrid lateral and internal sinus access, also known as the LISA technique (Park et al, 2014) will be covered in detail, together with the utilization of piezoelectric surgery devices and plateletrich fibrin (PRF).
Understand applied anatomy and physiology of the maxillary sinus
Understand case selection criteria for sinus augmentation procedure(s)
Be familiar with step-by-step techniques for lateral window and crestal sinus approaches
Understand the variations in the techniques available, including the "hybrid" Lateral and Internal Sinus Access (LISA) technique
Understand the contemporary materials used in grafting and rationale for the choices – from bone replacement grafts to natural enhancers such as PRF and CGF
Gain insight into the simultaneous versus staged placement, and loading protocols
Be able to recognize and manage peri- and post-operative complications
The Art & Science of Guided Bone Regeneration
The fundamental surgical principles in regenerative implant dentistry
Guided Bone Regeneration (GBR) & Guided Tissue Regeneration (GTR)
Concept of selective cell repopulation, use of barrier membrane, and space making
Understanding the mucoperiosteal flap
Principles of incision design
Surgical instrumentation, armamentarium, and devices
Piezoelectric surgical device
Sutures, graft materials
Other contemporary gadgets
Contemporary techniques
Ridge splitting vs. onlay block
Autologous block vs. allograft block
Tenting with fixation screws & titanium mesh: does it have a place?
3D positioning of the dental implant
Surgical guides & templates
Guided surgery
"Immediates" in implant dentistry
Immediate loading
Immediate placement
Immediate provisionalization
Soft tissue management in GBR
Autogenous soft tissue graft techniques
Allograft soft tissue graft materials and techniques
Biological modifiers
Growth factors
PRP, PRF, PRGF, BMP, Enamel Matrix Protein
Identifying and managing complications
Post-operative care and follow up
8:30 AM - 9:00 AM : Registration
9:00 AM - 5:00 PM : Lecture & Hands-on
*Breakfast and lunch will be provided
8:30 AM - 9:00 AM : Registration
9:00 AM - 5:00 PM : Lecture & Live-Surgery Observation
*Breakfast and lunch will be provided
Call (323) 617-4141 or E-mail info@gdia.com for additional information.