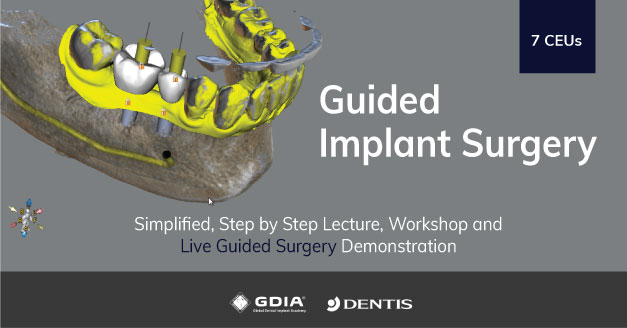 Take the stress out of implant surgery. Digital planning and guided surgery provide better results while saving time and money. This lecture will introduce a new and proven technique along with a compact guided surgical kit that will work with any dental implant system. This method will allow every practitioner to design and fabricate a precise implant surgical guide for low cost using streamlined work-flow.
Case Selection
Diagnosis
Treatment Planning
Virtual Implant Placement
CBCT, Radiology
Optical Scanning
Surgical Guide Design
Cad Cam Technology
Surgical Technique
Restorative Considerations

8:30 AM - 9:00 AM : Registration
9:00 AM - 5:00 PM : Lecture / Hands-on / Live-Surgery Observation
* Lunch and refreshments will be provided
Call (323) 617-4141 or E-mail info@gdia.com for additional information.