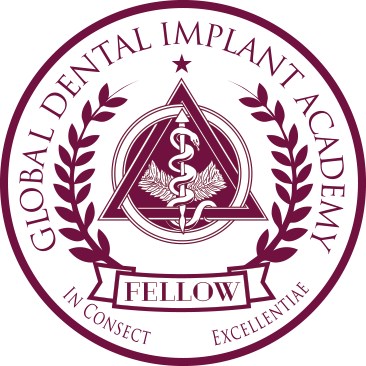 GDIA Fellowship is established by the Board of GDIA Credentialing Committee to pursue our core values, "to strive for excellence in Implant Dentistry and to better serve the community". By acquiring the basic eligibility requirements of GDIA Fellowship, each applicant will demonstrate that learning is not a light task, but a lifelong exercise. However, maintaining the core values as a lifelong discipline requires collaboration of like-minded professionals who are committed to sharing the highest level of meaningful education in Implant Dentistry. Our Fellowship Credential will help you become involved with many dedicated clinicians and become the leader and expert in Implant Dentistry.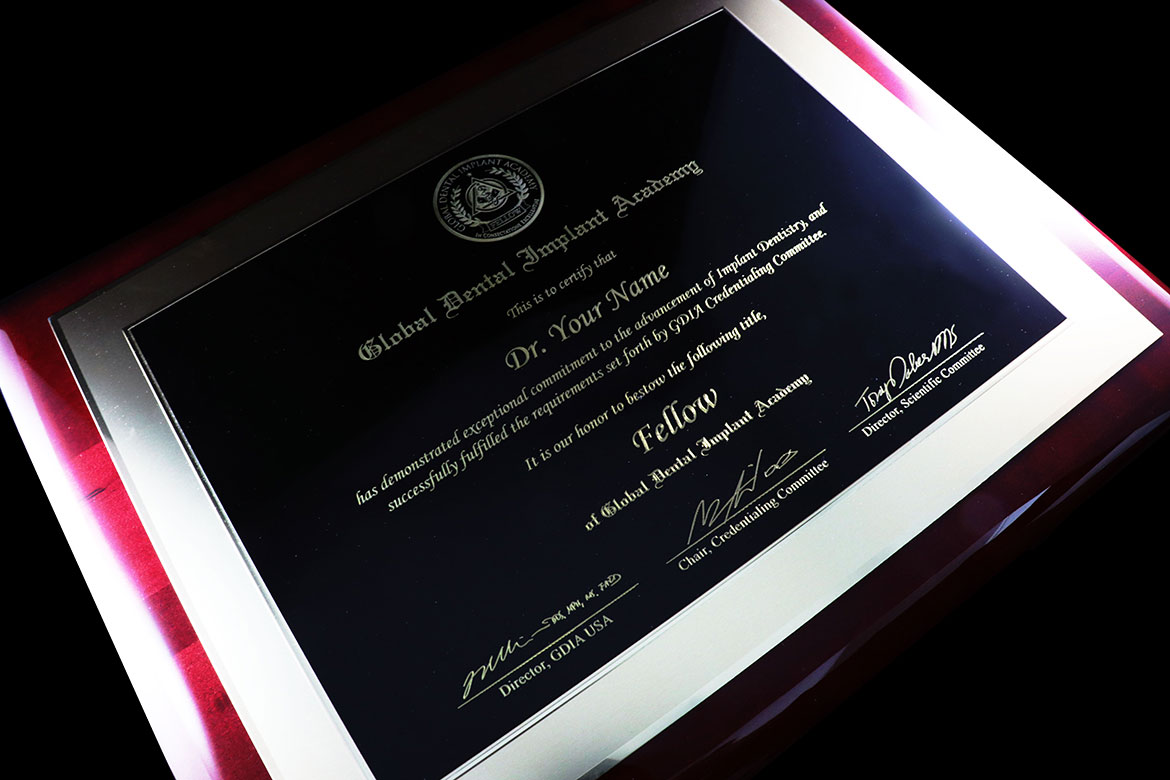 1. GDIA Community Membership

An Active GDIA member in good standing

2. Submit TEN (10) completed implant cases, including restoration

Each completed case, regardless of the number of implants, counts as one case.
Full mouth reconstructive surgery and restoration may be submitted as two separate cases, surgical & restoration.
All cases must include Pre- & Post-operative x-rays and clinical photographs of final cases. Please submit as much data as possible, with documents such as pre-, surgical, post-clinical photographs, CT scans, treatment plan, laboratory work data, and/or patient consent forms.
Please complete the Case Presentation Form and additional documents in Powerpoint, Keynote, or PDF format. (Case Presentation Form is attached to the Fellowship application form)

3. Total of ONE hundred (100) hours of Continuing Education Units

[Required] Minimum of 50 CEUs (50 hours) are required prior to applying for Fellowship

Participate in at least ONE (1) of the GDIA Live-Patient Surgical Training Programs

GDIA 101: GDIA Live-Patient Surgical Training Program (28CEUs)
GDIA 201: GDIA Live-Patient Surgical Training Program (34CEUs)

Participate in Hands-On Workshops

Minimum of 7 hours of hands-on participation in any GDIA curriculum (7CEUs)

Additional Implant Education

Provide documentation of completion of 50 CEUs (50 hours) or more in ANY implant education within the past five (5) years

4. Additional materials

Submit up-to-date Curriculum Vitae

5. Ceremony Participation

Participate at ONE (1) of the following GDIA affiliated conferences

GDIA Fellowship Summit
GDIA Global Symposium
GDIA & DENTIS Affiliated Conferences (if available)
Fellowship Application Fee: $450 (USD)
The fee must accompany every application for Fellowship and is paid at the time the application is submitted. The fee covers a portion of the cost of reviewing and processing the application and is not refundable. No application will be processed without the fee.
Application Deadline
Completed application must be submitted 12 weeks prior to the date of the Fellowship Ceremony.
Award Date
Fellowship is awarded at the Fellowship Ceremony, which is held once every year at either the GDIA Fellowship Summit or GDIA Symposium. Please check www.gdia.com for more details.
*GDIA Fellows will be acknowledged with a Fellowship Certificate and Pin during the Fellowship Ceremony.
Fellowship Maintenance Requirement
All GDIA Fellows are required to maintain GDIA Community Membership and are required to attend at least ONE (1) GDIA Symposium or GDIA Fellowship Summit every THREE (3) years.
All GDIA Fellows are required to accumulate 100 CEUs (100 hours) or more of implant education within the first FIVE (5) years after becoming a GDIA Fellow.
HOW TO APPLY FOR FELLOWSHIP
First, the applicant must make the payment fee of $450 for reviewing and processing the application. Applicant may either pay the fee online (by clicking the "JOIN NOW" button below) or provide the card payment information on the application form.
Applicant must download the application form, fill it out, and send it to our office by either emailing it to info@gdia.com, faxing it to our office at 323-617-4145, or mailing it to 6 Centerpointe Drive, Ste. 600 La Palma, CA 90623 (please select one SEND-IN option). Applicant must send in all other additional materials listed in the "Requirements" Section.
GDIA Membership & Credentialing Department
Cameron Torabi, DDS, MICOI, FICOI, FCII
Chair, GDIA Credentialing Committee
Cameron.torabi@gdia.com
Tony Daher, DDS, MSEd, FACP
Co-Director, Global Dental Implant Academy
Tony.daher@gdia.com
Arash Hakhamian, DDS
Chair, GDIA Membership Committee
Arash.hakhamian@gdia.com
Ellie Kim
Manager, Continuing Education Program
Ellie.kim@gdia.com
Jin Y. Kim, DDS, MPH, MS, FACD
Co-Director, Global Dental Implant Academy
Jin.kim@gdia.com